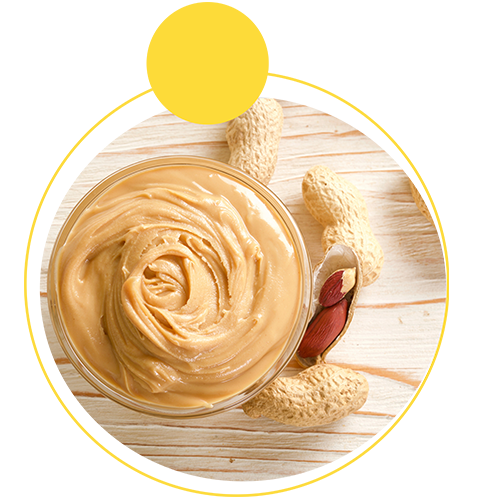 Indian Peanut Butter
Get the best Crunchy Peanut Butter
Panicle Worldwide is known for export of food products to different parts of the world. Prominent among the exports are Rice and Peanut Butter. After having exported Peanut butter to different parts of the world and tasted success, we decided to introduce export quality peanut butter in India. Thus was born Get Peanut Butter. Get Peanut Butter is available in different flavours including Natural peanut butter, Honey, Chocolate, Pineapple, Creamy, Crunchy, and Cinnamon.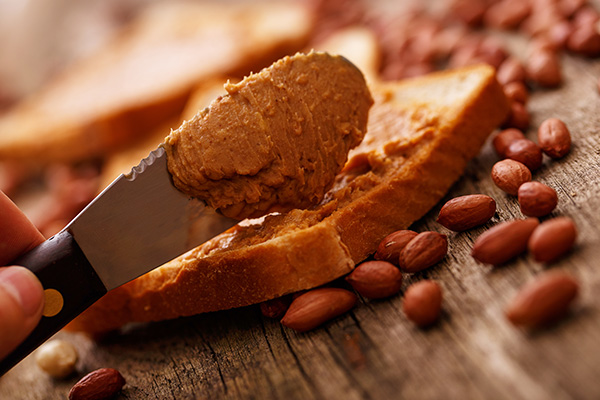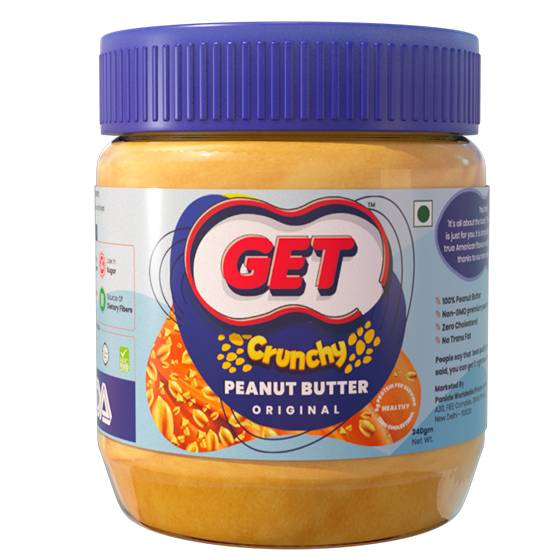 What is Crunchy Peanut Butter
Made with 100% Non-GMO premium peanuts, Get peanut butter is among the most vegan and healthy peanut butter across the nation. The Crunchy variant of Get peanut butter, giving the wholesome crunch of the best peanuts – hand-sorted and roasted to perfection, is a great way to refresh yourself.
Tasty, nutritious and so healthy – our Get crunchy Original Peanut Butter has crushed and roasted Non-GMO peanuts, with Zero Trans-fat or Cholesterol. Hand-picked and hand-sorted, the rigorous quality checks ensure you get world-class quality crunchy peanut butter, from the best peanuts, responsibly sourced from our trusted partners. Crunchy peanut butter is an amazing healthy snacking option.
Our Exhaustive Process to make Healthy Crunchy Peanut Butter
Our process to make healthy peanut butter is among the most eco-friendly and sustainable methods used. The process is as follows:
Planting and harvesting of Peanuts
Spring season is best for planting peanuts. The harvest is usually done during the period of August to October. Peanuts are removed from vines and dried mechanically using a machine. Cropping is also done. The cropping ensures that these unshelled peanuts can be stored in warehouses without decay. This is possible when they are stored under ambient conditions.
Shelling
Shelling is a very critical step. This step ensures that quality is maintained. After Shelling, the shelled peanuts are passed through a set of rollers, where they are cracked. The cracked peanuts are further checked for contaminants to ensure quality. At this point, we also resort to hand sorting to ensure that only the best peanuts are used for making butter.
Roasting
Post-shelling, peanuts are roasted by passing them through a mechanical roaster. To enable even roasting, a rocking mechanism is used in order to ensure that all peanuts are equally roasted. A photometer is used to ensure that the peanuts are not over-roasted.
Cooling
After dry roasting comes to the process of cooling. The roasted peanuts are removed from the roaster and directly placed in a blower-cooler cylinder. We employ suction fans to ensure efficient cooling. These suction fans are highly efficient and can pull a large volume of air through. Cooling is an important procedure in the entire process that helps the peanut to retain oil and moisture, which in turn impacts the texture and taste of the final product. The cooling process is completed when the temperature in the cylinder reaches 86 °F (30 °C).
Blanching
We follow either Heat blanching or Water blanching, depending on the requirement.
Heat blanching
During Heat blanching, we heat Peanuts with hot air at 280 °F (138 °C). This goes on for around 20 minutes. The end result of this process is soft skin. After this, the peanuts are exposed to continuous steam in a blanching machine. Then, we use either bristles or soft rubber belts to remove the skins. The removed skins are separated and blown into waste bags.
Water blanching
In water blanching, the kernels are arranged in a trough. Then the skin of the kernel is cracked on opposite sides by rolling it through sharp stationary blades. This process helps in the removal of skins, after which the kernels are brought through a one-minute hot water bath, and placing on a swinging pad with canvas on top. Due to the swinging action of the pad, the skins are rubbed off. The wet and blanched kernels are then dried for at least six hours with hot air at 120 °F (49 °C).
Grinding
The final step is where your hand-sorted peanut becomes crunchy peanut butter. Chunky peanuts are crushed in and added to the smoothest, richest, tastiest & best peanut butter with that delicious crunch.
Benefits of Crunchy Peanut Butter
Crunchy Peanut Butter is counted among the superfoods, and with good reason. This is loaded with essential minerals, vitamins, and bioactive compounds. Apart from that, it is also high in protein but at the same time, low in calories. With zero hydrogenated oil, zero cholesterol, and absolutely no transfat, crunchy peanut butter is your first-choice snack option.  
FAQs on Natural Peanut Butter
What are the ingredients in your Crunchy peanut butter?
We use peanuts, sugar, salt, and permitted emulsifiers.
What do you mean by crunchy peanut butter?
We offer the crunchiness of peanuts in the peanut butter, along with the natural flavour and goodness of peanut butter.
Where does Get source its raw materials from?
We source our peanuts from the best farms in Saurashtra. They are ethically sourced, and hand-sorted to ensure quality.
Why is it called butter; does it have butter inside?
It doesn't have any butter in it. It is called 'peanut butter' because many people use it as a substitute for regular butter due to its creamy consistency and health benefits.