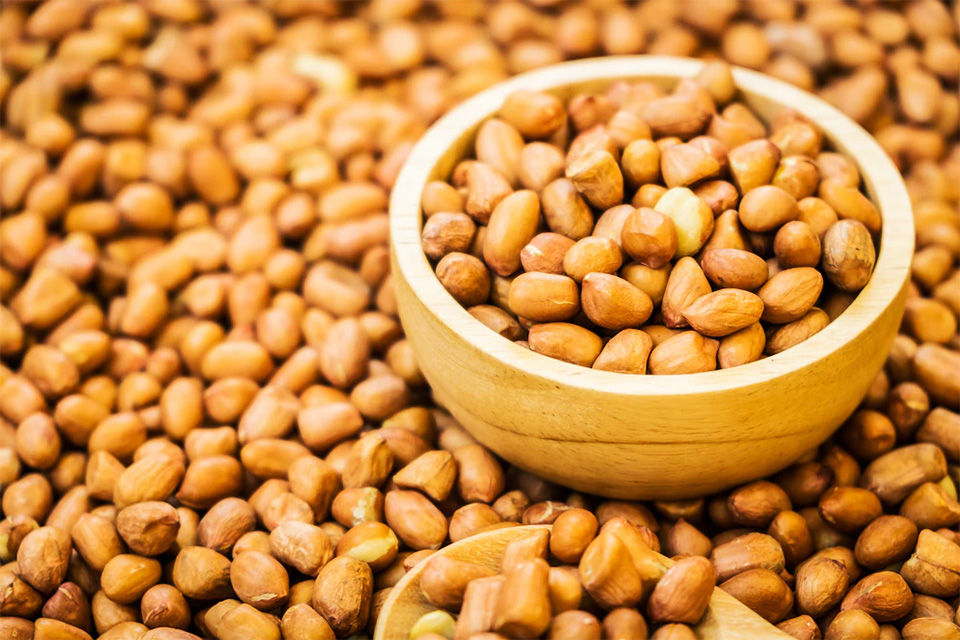 Peanuts or 'mungfali', as it's more popularly known, is one of the most commonly used legumes in India; especially in culinary preparations. This versatile ingredient not only adds a crunch to a plethora of preparations but also has various health properties. It is always healthy to have more peanuts in diet plans, every day.
Peanuts may be legumes but possess the properties of nuts like almonds and walnuts, which also make them, in a way, a part of the nuts family. Peanuts can be roasted and added to curries, salads, snacks, and whatnot. They not only add to the taste but also a nice, nutty texture to the food.
Looking for tasty new ways to enjoy your all-time favorite food? The suggestions below are sure to perk up your taste buds.
Start your day right
Research shows that eating peanut butter with your breakfast may *help curb your appetite for hours afterward. For a super-easy breakfast shake, put 1 tablespoon of peanut butter, 1 cup of fat-free chocolate milk, a banana, and a few ice cubes in a blender and whir until smooth.
Reimagine your PB&J
You can't improve upon peanut butter and jelly slathered on a slice of whole-grain bread. As any 4-year-old (or 40-year-old) can tell you, it's perfection. But for a change of pace, lightly grill your sandwich. Or add sliced bananas, strawberries, thinly sliced apples, or grated carrots. Planning to bring the sandwich along while hiking, biking, or kayaking? Squash-proof it by using a folded tortilla in place of bread.
Toss peanuts in your salad
Peanuts mix well with celery, apples, pears, dried cranberries, and grated carrots in a salad. Let your imagination—and whatever you have in your fridge—be your guide.
To make coleslaw instead of salad, use all those ingredients, but swap in chopped cabbage instead of salad greens. To make a creamy dressing, mix ½ cup of low-fat vanilla yogurt and 1 tablespoon of orange juice.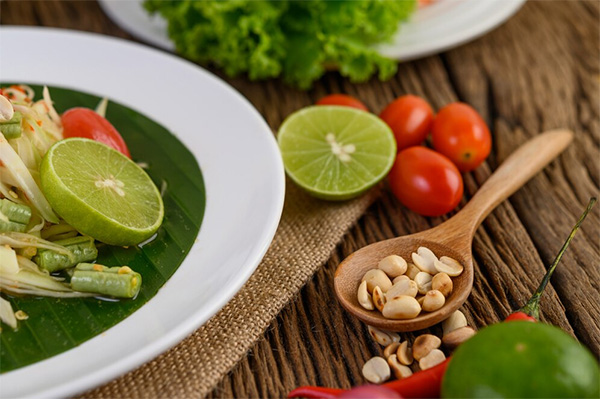 Grab an afternoon treat
A snack rich in protein and fiber provides sustained energy and helps you fend off the dreaded afternoon slump. Know what fits that description? Surprise: It's peanuts—eaten alone, in trail mix, in a nut bar, or as peanut butter on whole-grain crackers.
Another option - Make a dip from ¼ cup of creamy peanut butter, ½ cup of low-fat vanilla yogurt, and 2 tablespoons of orange juice. 
Enjoy it with raw fruit and vegetables cut into dippable pieces.
Expand your peanut horizons
Peanuts play a prominent role in cuisines around the world. For example, Satay—marinated, grilled pieces of meat or chicken on skewers served with peanut sauce. Stir-fries and noodle bowls with peanuts are also rooted in Asian cuisines. And many variations of peanut soup hail. You can find a multitude of recipes for these foods and more on cooking websites and apps.
Treat your sweet tooth (in moderation, of course)
Peanuts are a key ingredient in many delectable sweets and desserts — quality peanut butter cookies, anyone? What's chocolate without crunch? While you can buy chocolate-coated peanuts, you can also make them at home. All you need to do is to heat a bowlful of chocolate till it melts and add a handful of peanuts and let it cool. Once refrigerated, cut them into bite-sized pieces and munch on them at any time. Quite an easy way to add peanuts to your diet, don't you think so?
These irresistible legumes cum nuts are worth our attention; so go ahead and add some crunchy goodness to your food.